Yoga At Work™ offers Corporate Yoga Classes and Programs across Mumbai and its suburban. Pune, Gurgaon, Delhi, Noida, Mumbai, Chennai Bangalore, Hyderabad, Greater Noida, Ghaziabad, Faridabad and Dehradun.

Services are flexible and designed as per requirements of different Industries to fit their need. Below is quick guide which will help understand the requirements of specific industry. Our experts will help you to customize a program best suited for your employees. We offer the following types of Yoga:
Rapid Yoga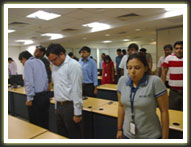 One of the main reason for management reluctance for implementing Corporate Yoga Programs in their organization is a common myth that Yoga programs requires a lot of space and time and hence can't be implemented in corporate environment.
We introduced Rapid Yoga™ where it is not necessary to keep the Yoga session long, it can be customized as per requirement. Even a 15 mins. rapid session can yield good results.
Features
Session can be kept short, ranging between 10 – 20 minutes
Session can be done in office clothes
All exercise can be done standing.
No dedicated space is required, session can be done near Desktop.
Sessions can be held any time of day/night.
Rapid Yoga™ is best suited for IT and BPO professionals. Sessions can be held on the floor near desktop before start of shift, middle of shift or end of shift. Yoga can be done while standing near the desk space area.

Chair Yoga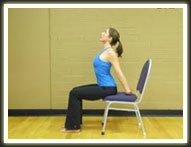 Chair Yoga is a general term for practices that modify yoga poses so that they can be done while seated in a chair. These groups of exercises are simplest and gentle movement best suited for people in office or people with limited mobility.
Chair Yoga provide a solution for the people who don't feel comfortable doing exercises standing while others are working.
Features
Suitable for people working on office or sitting in front of computer for long.
Session can be kept short, ranging between 10 – 20 minutes
Session can be done in office clothes
All exercise can be done sitting on chair.
Chair Yoga is suitable for all kind of industries where people sit on chair for long doing office work or working on computers.
Suksham Vyayam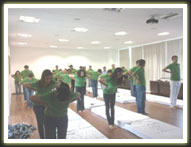 This group of 48 Asanas is concerned with loosening up the joints of the body. It eliminates energy blockages in the joints and outer extremities of the physical body and works on the Pranic and the mental level as well. Each part of the body including all organs, joints and muscles are benefited. So the Yogic Sukshma Vyayamaa, as is implied by its name, is meant for the subtle body or Sukshma Sarira.
As per the yogic philosophical tradition there are five bodies for every individual - the physical and the subtle: the annamaya sarira, pranamaya sareera, manomaya sareera, vigyanamaya sareera and anandamaya sareera. So, Sukshma Vyayamaa deals with the second level, which is the subtle body or Sukshma Sarira
Features
Total 48 kriyas which can be done standing
Session can ranging between 30 - 60 minutes
Session can be done in office clothes
No dedicated space is required, session can be done standing near Desktop.
Sessions can be held any time of day/night
These exercises are suitable for the all industries where there is no dedicate space available for doing Yoga since these exercises can be done standing near desktop. IT, BPO companies Factories, Industrial Units can benefit from these exercises. (48 kriyas, micro exercises for every part of the body, benefits subtle body, can be done standing in office cloths).

Yoga On the Move™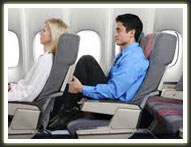 Lot of people spend a considerable time waiting on airports, travelling on planes, trains and cars. These easy and relaxing exercises can be done while sitting in a cramped airplane seat, waiting in a long line, resting in hotel room, waiting on airport, railway station and driving or travelling in car.
Features
For people travelling in cars, planes, trains or waiting.
Can be done standing or sitting on seat.
Do any time of the day or night.
Idle time is utilized to keep oneself fit.
Yoga On the Move™ is suitable for the people who travels a lot and spend a lot of time in plains, airport, trains and cars. The time which normally is wasted unnecessary talking on phone, working on computer can be utilized for keeping good health. A little planning is required to gain maximum benefit out of the program like keeping empty stomach while waiting on airport for boarding on plane.
Yoga OPD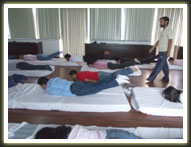 Most of the people who sit on computer for long or stand for long suffers from back pain, neck pain, cervical spondylitis, eyes or digestive problems.
Therapeutic yoga focuses on the treatment of people with specific mental and physical conditions and it provides a valuable healing process for them. Yoga therapy can be helpful in lower back, shoulder, or hip pain, high blood pressure, constipation, asthma, diabetes, obesity, cervical, arthritis, anxiety, and depression, just to name a few.
Using different techniques of yoga (such as asanas, pranayam, Sukshma Vyayamaa, relaxation, meditation) and lifestyle (such as diet, exercise, sleep or stress management) health is enhanced resulting in reduction of disease symptoms. Therapeutic yoga classes include a slow and easy pace to help aid the body in relaxation and the healing process.

Meditation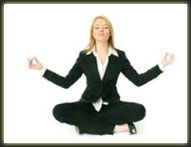 Stress and strain of odd working hours along with sedentary life style takes it toll on health. Coping with the Lifestyle diseases is snuffing out lives and taking away productive years.
Meditation reduces stress, reshapes the brain, increases concentration, thus reducing absenteeism and increasing productivity.
Meditation session will help the participants to maintain a relaxed, focused, and energetic mind in the midst of a hectic office schedule.
Traditional Yoga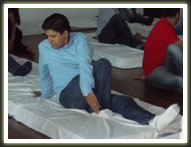 It is traditional form of Yoga in form of long sessions of 45-60 minutes done in a silent environment with mats. Exercises can be done lying, sitting or standing on the floor.
Normally suitable for corporate who plan for a long term health management plan for employees. A silent dedicated space and mats are required to conduct the program.
Features
Asanas
Pranayams
Mudras & Bandhs
Shatkarmas
Power Yoga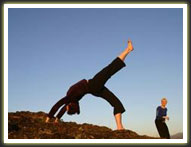 A combination of traditional yoga with dynamic exercises. Places demands on all of the muscles, boosting circulation and improving muscle tone. Power yoga is a general term used to describe a vigorous, fitness-based approach to vinyasa-style yoga. Power Yoga put emphasis on strength and flexibility. The advent of power yoga heralded yoga's current popularity, as people began to see yoga as a way to work out.